06 May

Hannah's Fitness Journey

Hey y'all! I'm Hannah – probably a familiar face to all of our regular Zoomers. I started working the front desk at ZoomHSV in January of 2018. Since January my life has been nothing short of fun and ever changing. To say I love my job would be quite the understatement. What some of you may not know is how hard it was for me to conquer my weight issues. I could lose my keys, my cell phone, my temper and even my mind all in one day, but losing weight was such a huge struggle.

In October 2016, my husband and our two children went to the beach to have our wedding ceremony. We had an amazing wedding photographer (Cody Hester at It Happens Photography in Gulf Shores, AL). He captured all of the moments we asked for. However, once I saw the pictures, I felt defeated. Weighing in at 143lbs and 5'1" I saw BOTH of my chins, my belly poking out, my very unflattering arms… the list could go on and on.

So in November 2016 I got to work. I changed my eating habits as much as I could while still working 40 to 50 hours a week and being a mom to two very active kiddos. I made a point to walk EVERY day during my lunch – rain or shine. I was starting to see some results. My energy level was increasing and I was seeing a slow but steady change on the scale. I got down to 127lbs.

In August of 2017 I left my full time job as a Surgical Assistant/Coordinator for a Pediatric/Adult Ophthalmologist and really started to focus on myself and my family. I encountered some health issues that required surgical attention and during that trying time it was also very eye opening. My family NEEDED me to be the best me I could be. That's when the major changes really began. We did not participate in fad diets. We chose as a family just to eat cleaner. We eliminated all processed foods from our diet which resulted in a HUGE energy boost.

In December of 2017 I was ready to go back to work. I knew going back into the medical field was not for me. I LOVED my patients, co-workers and physicians but I was ready to make a real positive difference in my life while doing the same for someone else. That is when I started exploring the fitness industry and found Zoom!

Still weighing 125lbs in January 2018, I started my job with the best company I could have asked for. Every single person I encountered was motivating, uplifting, encouraging…. all of the good positive words!! My first time on a spin bike EVER was at Zoom Indoor Cycling. It was an experience to say the least. I couldn't get out of my saddle for my 1st (4) classes and NEVER felt discouraged. Why? Because I was determined to be able to get this spin thing down. All of the instructors said, "You can do it!" "You will get it – I promise!" AND I DID!! Now after riding at least twice a week every week I managed to drop down to 110lbs which is 15lbs in 3 full months of riding.

Today I am 5'1" weighing 116lbs (and my reason for weight gain is muscle mass). My body, my confidence, my abilities… EVERYTHING has changed in me. Zoom and determination has helped me continue to meet goal after goal.

If you have ever questioned "Can I spin?" "Will I ever get the hang of this?" "Will cycling really help me?" With a few lifestyle changes and the motivation of the staff at Zoom YOU CAN DO IT! Our staff offers any information you may need to jump start your own personal fitness journey so you can finally feel confident, fit and happy in your own skin!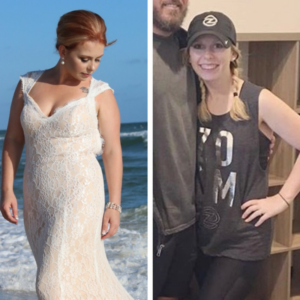 Everyone has a story….what's yours?
Written by: Hannah Smith, Zoom Front Desk Team Member